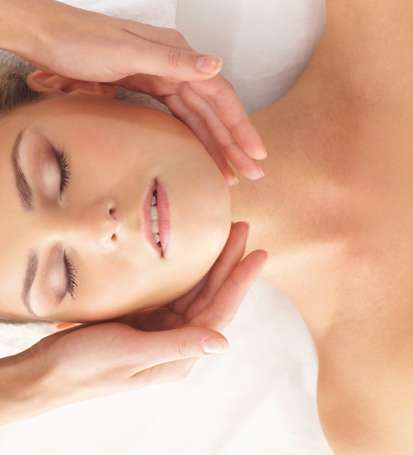 After an initial consultation your therapist  will examine your skin type and condition and will choose the most appropriate products for your skin. We work with natural brands such as Eve Taylor,  Amphora Aromatics , Temple Spa  and Neil's Yard . Your therapist will bring a range of professional quality products, a massage bed, steamer and everything else needed to deliver a refreshing or deep cleansing facial which will be tailored to meet your individual needs and skin type.
Moisture Replenishing Facial – £65 – 60 Minutes
This revitalising facial will leave your skin feeling nourished and refreshed. The ultra-moisturising properties make this facial ideal for mature, dry or jet-lagged skin
Age-Defying Facial – £65 – 60 Minutes
This facial offers an ideal remedy for mature skin and is a perfect way to combat fatigue. With skin-plumping properties and a mixture of natural anti-aging ingredients to help banish dark circles around the eyes, you'll leave feeling refreshed and glowing
Skin Balancing Facial – £65 – 60minutes
This facial will help to rehydrate the skin and remove impurities This treatment will reduce fine lines, minimise pores and protect against environmental damage, leaving your skin feeling rehydrated and re-balanced.
Skin Caring Facial – £65 – 60minutes
This Facial is packed with soothing, moisturising actives to calm irritated skin and reduce redness and heat sensations. Skin feels balanced and the barrier is strengthened to prevent future irritations.
Facial & Back Neck & Shoulder Massage Combo – £65 – 60minutes 
Choose from our muscle melt massage or drift away massage to relieve your back neck and shoulder  followed by an express facial specific to you skin type.
Email : Info@nerolihomespa.com
Tel: 07432839919